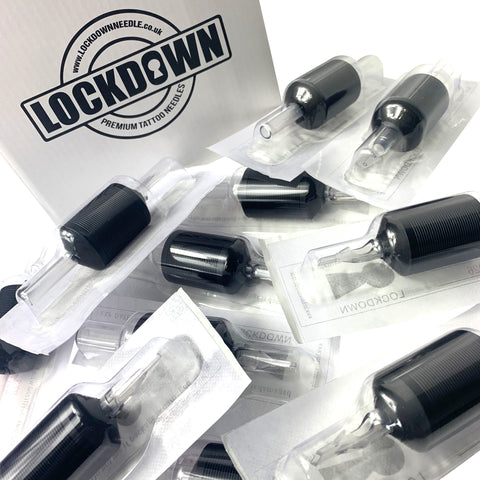 Lockdown Disposable Grip Tubes!
By popular demand, and after 2 years of development and testing, i am proud to offer the Lockdown disposable tubes. Features my easy-flow™ ink well which excels disposable tubes where they usually lack performance over steels! 
Consistent Throughout

Precision Manufactured

Crystal clear thin walled tip with a 30mm rubber grip

Individually sterilised & sealed

Box Count 20
AVAILABLE IN Lining Round Tip, Lining Angle Tip, Open Flat Tip & Boxed Flat Tip!

PRICE INCLUDES ALL TAX & UK SHIPPING
INTERNATIONAL SHIPPING OF TUBES CARRY A SLIGHT SUR-CHARGE DUE TO THE WEIGHT AND SIZE. THIS IS PER ORDER NO MATTER HOW MANY YOU BUY
---
More from this collection